As summer gets near, local businesses should be ramping up their marketing initiatives. For you as a local marketer, it's important that when consumers start searching online, they find your client's business instead of a competitor.

CDC Reduces Mask Restrictions – Are Your Local Business Clients Visible Online?
Announcements from the CDC over the last week relating to COVID have consumers feeling more optimistic and safe about leaving their homes and heading back to stores, their favorite restaurants, making those appointments they've been putting off – and much more.
Over the past year consumers have had plenty of time to think about the quality of service they've been getting from the places they frequent. Many consumers will be shopping for products and services from businesses they haven't frequented before. Online visibility is key to ensuring these local businesses are getting found.
Google I/O Last Week
At Google I/O they made some notable announcements. These changes can and will impact your clients' visibility in search and map results.
In the opening keynote, Google CEO Sundar Pichai said they "set out to build a more helpful Google for everyone." Later he continued by pointing out that "15 years ago Google set out to translate the web. Last month they translated more than 20B pages."
Those of you that have been in digital marketing since the beginning remember the old Google and perhaps snickered at such a lofty goal. Seems today Google is achieving it – and based on all the announcements at Google I/O they will continue to expand upon this for many years to come.
Many of Google's announced changes, while helpful to consumers, can make it more difficult for businesses to get the visibility they need and crave.
Google Announces Changes to Google Maps
Consumers will be able to access live view from maps, including how busy a place is, read reviews and view photos.
Maps will add virtual street signs and point users to key landmarks.
Mapping indoors at airports, transit stations and malls started rolling out last week.
The most detailed street maps with features such as sidewalks, crosswalks and stop lights will be available for 50 cities by year-end.
Google is prioritizing making Google Maps results more tailored and relevant. Maps will show things like coffee shops in the morning and restaurants at dinner time.
While consumers will potentially like these tailored and relevant map updates, for businesses this can translate to those not deemed relevant by Google having limited visibility in the local pack and maps at different times of the day.
Optimized Google Business Profile Listings Are Going to Continue to Be Important
It will be extremely important to make sure all the Google Business Profile (formerly known as Google My Business) listings you manage are in the correct categories, the listings are 100% optimized – and being kept updated with features like GBP posts, questions & answers, etc.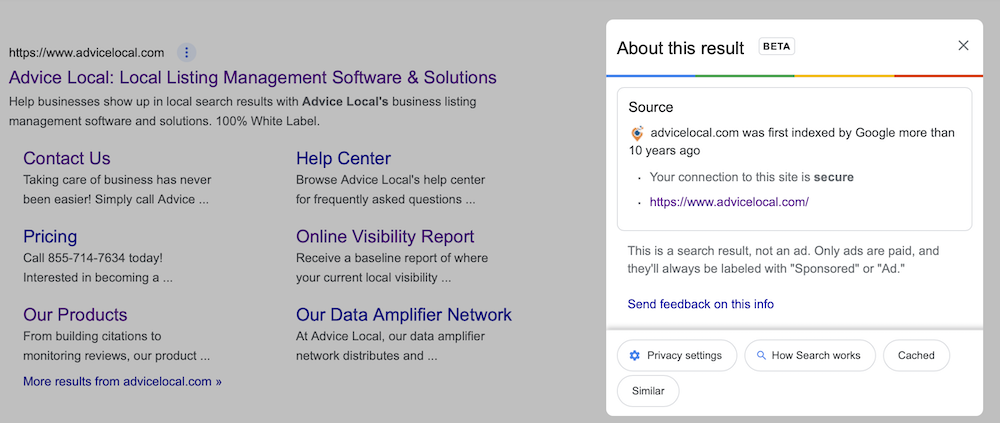 About This Result Is Expanding More
Earlier this year Google added About This Result in search for specific queries. This was added to help the user better understand if they can trust the source of the result they are reading. To access, simply click the three dots next to the result to view the About This Result information.
This coming month it will roll out to all English language search results worldwide, with more languages to come. This year Google plans to add even more details, such as how the website describes itself, what other sources are saying about the website and related articles.
Google Covered a Lot of Information This Year
Google shared many more changes at the conference this year, and we've hit only a few of the highlights here. You can access the recordings of the Google I/O conference on YouTube. You can bet Google will be making more changes. We'll highlight other relevant announcements Google made at the conference over the coming weeks.
Online Visibility Needs to Be Prioritized
There's one thing all of us as local marketers can agree on – to help local businesses get found online, online visibility must continue to be a priority. This means maintaining Google Business Profile, Bing, Yelp and business listings on authoritative and niche sites across the web.
How visible are your local business clients? If you aren't sure, request a demo to find out how to take our listing management solution for a test drive.