It's official again … or is it unofficial since Google isn't talking about it yet? Google is making more changes and this time to Maps. In the last few days, local search marketers have been reporting that Maps is changing, and what used to provide options of local businesses 3 and 4 pages deep is dropping down to 2 pages.
Linda Buquet of Local Search Forum commented on the topic in a forum discussion with this statement:
"Conspiracy theory: Only 8–10 results now. The ones that don't make it need to pay to play in some new revenue model. (Not saying that will happen. Just a thought.)"
The proximity of what shows in the search is even more local-focused than in the past, and the location of the searcher also greatly affect the results, from what I am seeing.
In talking about this change with Bill Hartzer, SVP of Agency Services, he observed:
"One reason this change is a big deal is because Google makes about 500 updates a year for organic, but we don't hear about a lot of updates for rankings on Maps."
What Do You Think About This Google Maps Change?
Google is getting more aggressive with their changes, especially for local businesses. Let's review:
Last year, they rolled out the "snack pack," also referred to as the "Google 3-pack." Where 7 businesses used to appear in a search starting at Google.com, it was dramatically cut down to 3. This really shook up the industry and made it so that local businesses really needed to step up their online game to get found in the top on the first page of search results.
Just a few short months ago they announced "Paid Pins" will be coming to Maps. This meant businesses could pay to be listed on Maps. This is a big win for local businesses that have a budget for paid media, but what about the mom & pop businesses that haven't been using paid and don't really have a budget, because they are barely keeping the doors open as it is?
Only a few weeks ago it was reported that one of the three "Local 3-pack" results would be a paid spot. Again, this is a good thing for the local businesses using paid, but not so much for everyone else. Google confirmed and reported this was still in testing. The search I just ran did not include a paid spot.
And now, Google is tightening up the number of businesses that show up in a Maps search (visit Search Engine Roundtable to see before and after screenshots).
What I see next is that the results will get even narrower, based on the proximity of the user when running the search and what device they are using to run that search.
Here is the search I ran for Pizza, Greenville Avenue, Dallas, from my iPhone in Maps. Notice, 8 pins showed up and 3 top results.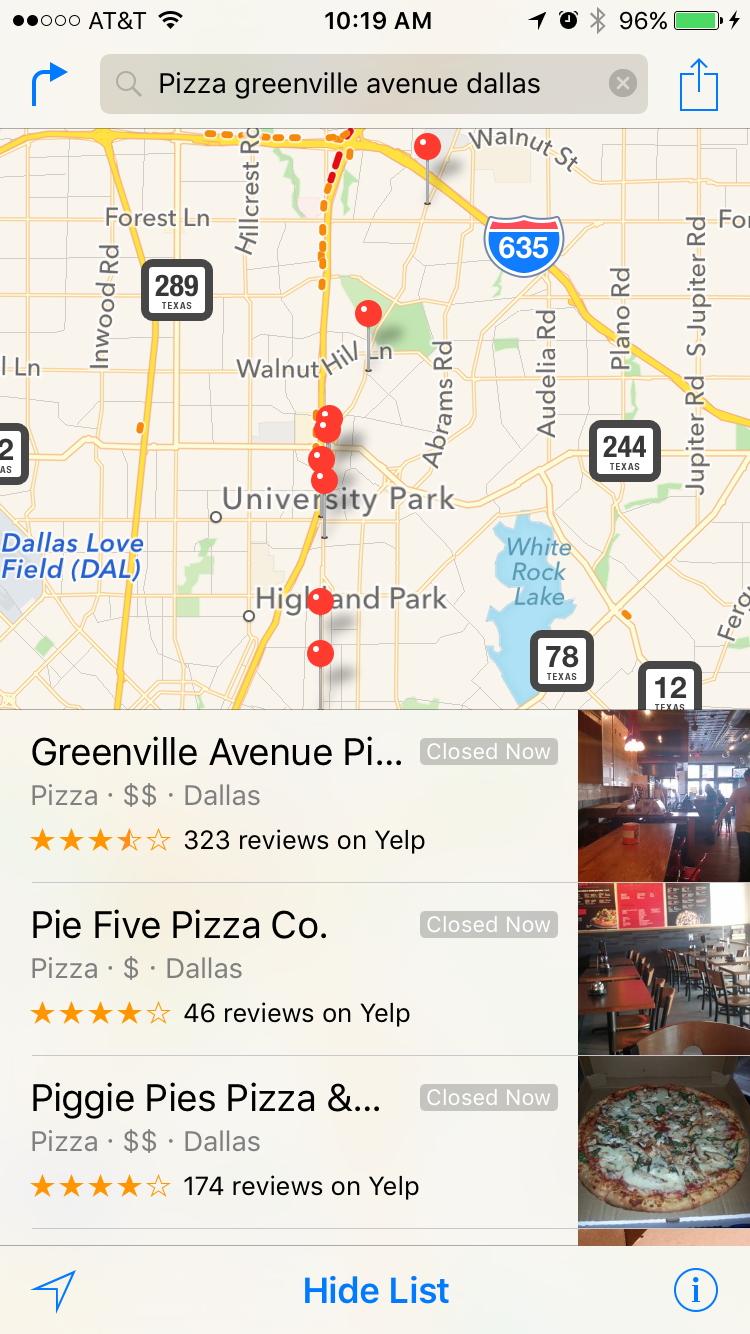 Here is the search I ran from my desktop computer with the same query, starting at Google Maps. Ten results appeared on the map and the top 3 were the same as before.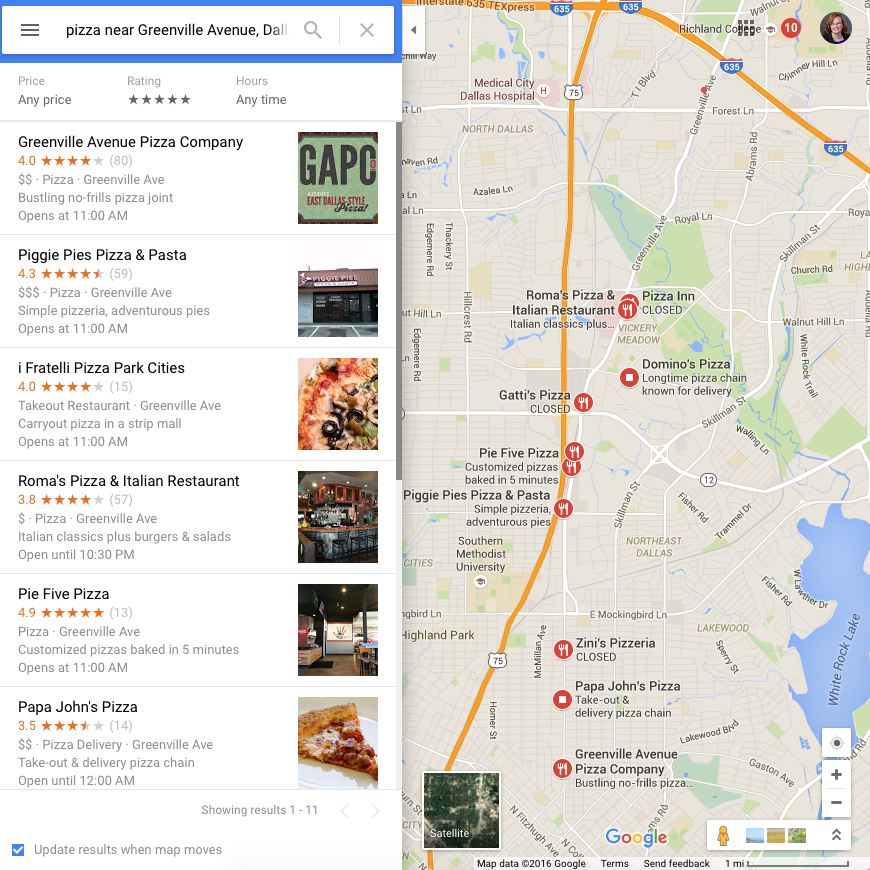 I ran the same query from Google.com vs Maps and got these results: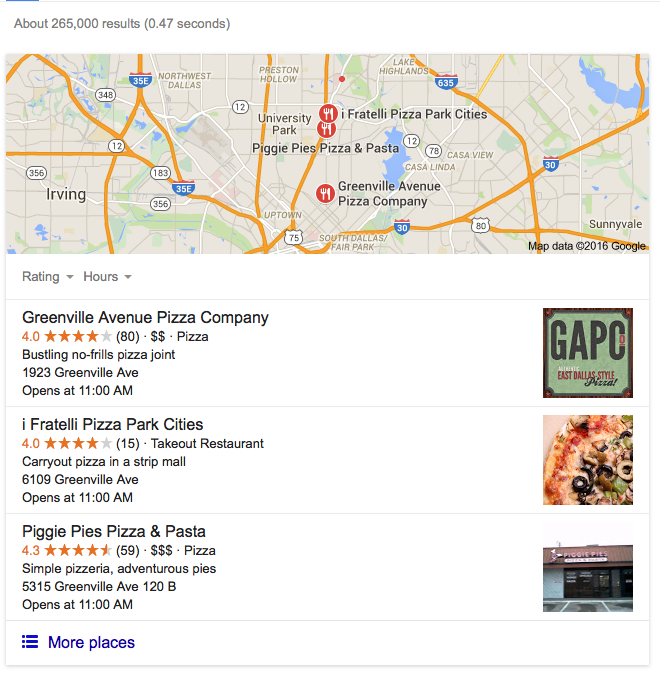 When I clicked more places, it took me to Maps and now I am only seeing 6 results, with the top 3 the same: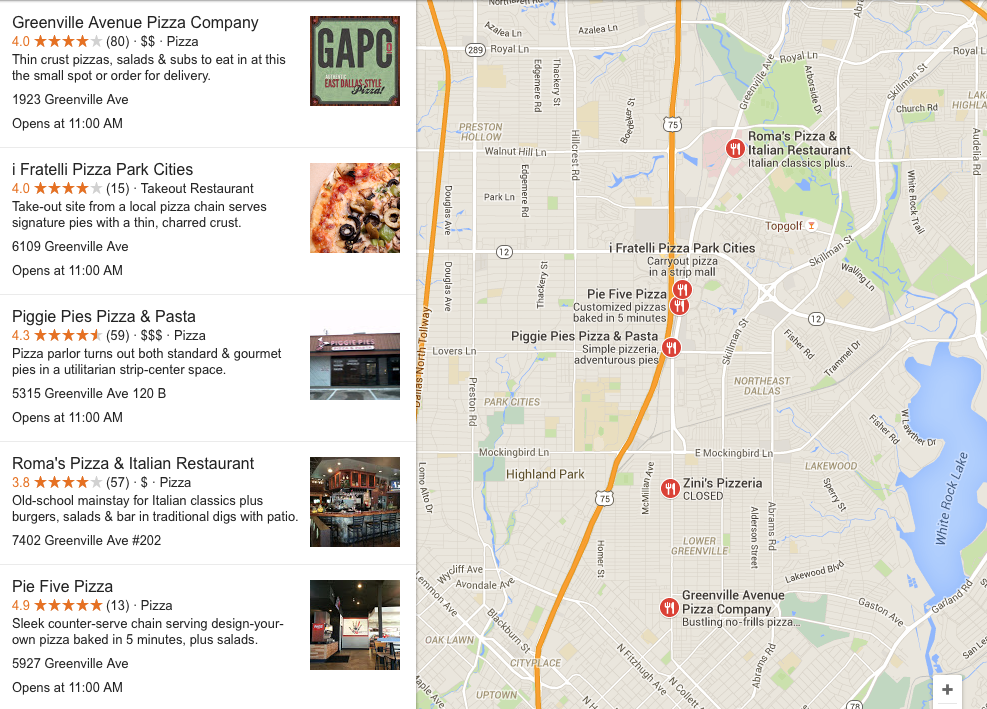 So what's the point in showing you all four of these screen captures? The results are similar, yet differ with each other a little bit. With the change from mobile to desktop the results increased, and with the change from starting in Maps to starting at Google.com, the results decreased. The point is that Google is changing things up and you never know what you're going to get!
BTW, I was sitting in the exact same spot when I ran each of these searches. The only difference was I switched from mobile to desktop, and the starting point of the searches on desktop changed from Google.com to Maps.
I don't know about you, but I will look on Maps for a place to eat in an area 30 miles away while I am still at home. While I like proximity searches, it doesn't always make me happy as a consumer.
And what about as a local business owner? I'm not a local business owner with a brick-and-mortar location but if I were, and the consumer searches for Pizza, Greenville Avenue, Dallas, and they were searching from say, McKinney, Texas, I would want them to find ME, because after all I have the best pizza.
What's Next From Google?
Who knows, but we can guarantee it will continue to focus in tighter on local businesses with accurate location data, positive reviews, prominence and E-A-T content. If you represent a local business or own a local business, get your location data claimed, optimized and accurate.
Start with Advice Local's free report, and yes, I am partial because I do work for this company. But even more so than that, I've experienced firsthand how dedicated they are to their resellers, customers, and the SMBs they manage location data for.
Keep coming back; we'll keep you updated as more Google changes roll out.