Last time we were here, we talked with you about Google Business Profile (formerly Google My Business) facts & data you can't ignore. For the last few months, Google has been rolling out what seems to be update after update. For example, the Spam Update that started rolling out at the beginning of August is still rolling out – Danny Sullivan confirmed on Twitter it may be finished next week.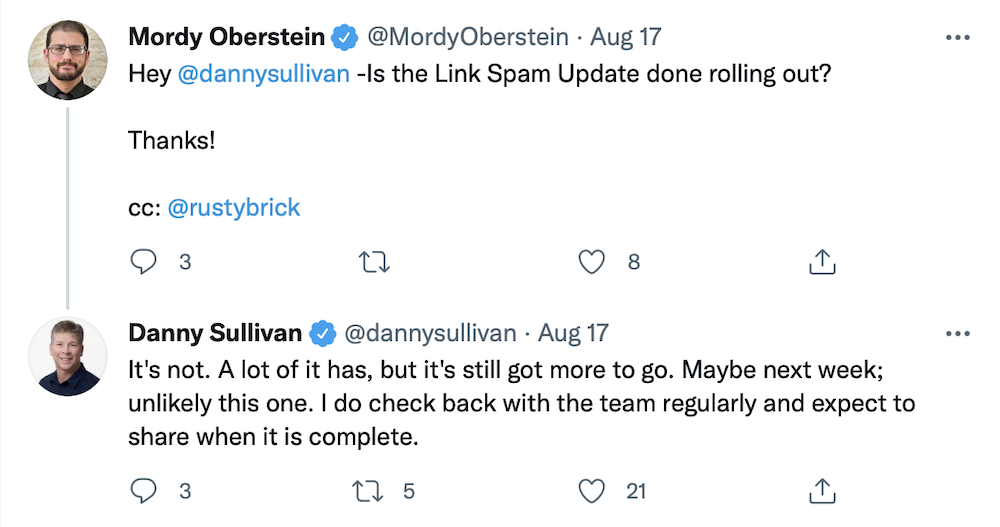 Are You Concerned About the Google Spam Update?
We've been getting calls from our Advice Local partners concerned about this update, and wondering if we think it's going to impact their clients negatively. There's no way for us to tell you how this will affect your clients' websites. Unfortunately, it's a wait-and-see for us all.
Google Is Rewriting the Title Tags Displayed in Search
Google has been busy rewriting title tags for our partners' clients' websites this week. It's actually been quite the hot topic online. We did some testing with the Advice Local website and found we were not immune from this rewriting of page titles.

We thought this example was a funny one. Just why Google decided this was a better title tag, we'll never know. This is not an H1 on the page, so the theory that they are pulling from H1s doesn't apply here. Also, since we did a site search in Google to see all the page titles for our site, keywords are not a factor – at least not for the pages we noticed the title tags are being rewritten for.
If you speculated (like Marie Haynes) that this is related to the Passages Ranking, Danny Sullivan has responded with a resounding no. Barry Schwartz reported on the topic.
What Is the Passages Ranking?
Since we haven't mentioned this update before, the Passages Ranking enables Google to index not just a web page, but individual passages from a page. For some websites this could mean the visibility in search they were getting before will go away. For other sites, it could mean they will get more visibility. The websites that will win are the ones that have the best answer for the search query – this has always been the priority for Google.
Passages rolled out in October of last year, so any aftermath from this has most likely happened already. Google says passage-based indexing will affect 7% of search queries across all languages when fully rolled out globally.

What's the Big Lesson With These Google Changes?
We can sum it up with one word – diversify. Make sure the local marketing strategies you implement for your clients bring a multi-pronged approach. That way, if one strategy is falling off, while you're focused on correcting or resolving the issues, the other strategies can still help your clients get visibility in local searches.
This is where listing management, Google Business Profile, Bing, Yelp and voice search optimization come into play. Request a demo today and find out how we can help you to better serve your local business clients.