Reviews are the cornerstone of local marketing, helping build trust with consumers, increase search visibility – and a whole lot more. With the release of our new Review Monitoring Tool we have simplified many of the processes that go into review management, allowing agencies to save time and deliver more for their clients. But why exactly is review monitoring so important, and how does our tool help?

What Is Advice Local's Review Monitoring Tool?
The Review Monitoring Tool is a new feature in the Advice Local dashboard. Agency partners can track client reviews at a glance, accessing customer feedback on numerous review platforms. With valuable data and notifications, users have the information needed to monitor customer sentiment and take appropriate action.
Main Features of Our Review Monitoring Tool
The tool's features are designed to help you move fast, based on data that really matters.
Multi-Platform Review Monitoring
The tool collects reviews from a range of sources including Google, Yelp, Judy's Book, Brownbook, ShowMeLocal and more. Users can get a broad overview of aggregate scores or drill down to a specific platform.
Why You Need to Monitor Multiple Platforms
Reviews are important for local SEO, acting as a signal of authority and trustworthiness. Monitoring various sites lets agencies and businesses develop an overall picture of customer sentiment and identify platforms that need more promotion.
Respond to Customers
All new customer reviews are added into the dashboard with a link that takes you directly to the platform. This convenience makes it easy to respond to customers.
Why You Should Respond to Customer Reviews
Replying to both positive and negative reviews is crucial for a brand's reputation. With a fast response, it's often possible to resolve a negative experience, secure repeat business – and signal to other consumers that the company values its customers and engages with them.
Data Analysis
The Review Monitoring Tool collects usable data, including an overall review score, ratings (in the last 30 days and over six months), a recency score and more. A quick glance at the dashboard provides an immediate impression of brand reputation.
Why Review Data Matters
Data lets businesses identify issues and make smart decisions. Agencies can use the data to advise clients on improved review management strategies.
Scheduled Notifications
Users can set up daily, weekly or monthly notifications for all new reviews. Simply add an email to stay informed of all reviews for each client, and even message the client directly.
How Review Notifications Help Agencies
Notifications enable a fast response to reviews and the ability to address and resolve negative experiences. And as with all of our listing management services, agencies have a straightforward way to keep clients informed. Notifications automate client communication for those who want regular updates.
Accessing the Review Monitoring Tool Is Easy
To access the review monitoring tool, simply log in to your partner dashboard, select a business for which you have active listing distribution, then select the Review tab.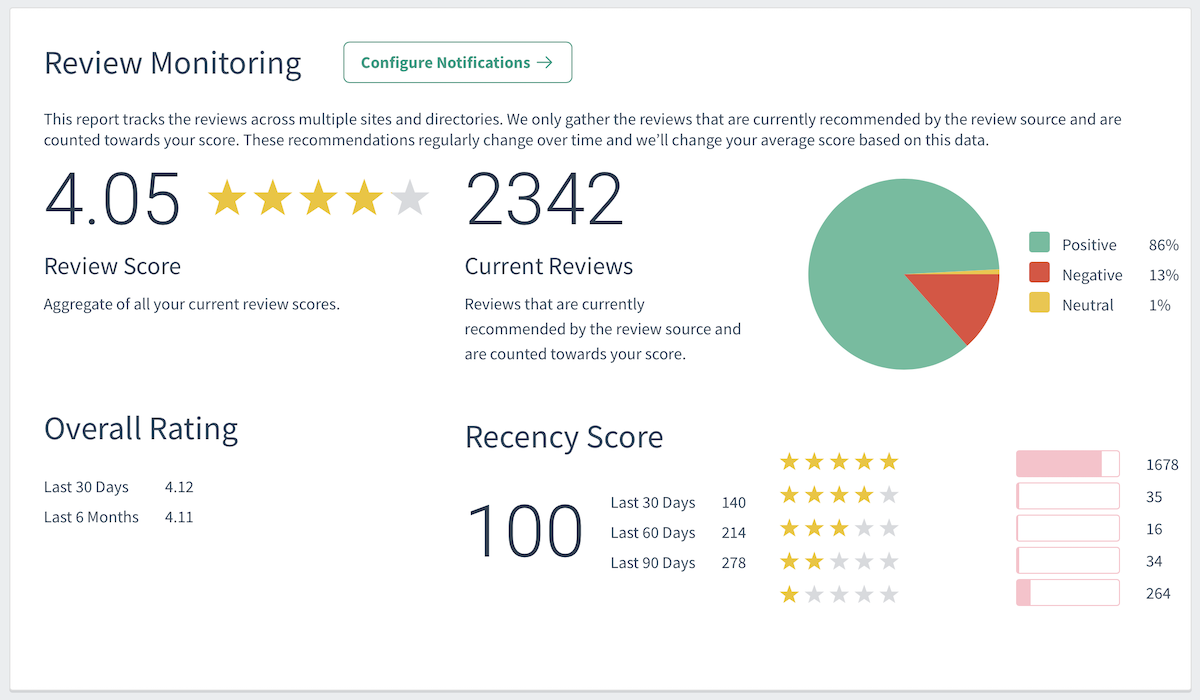 From there, you'll want to select Configure Notifications to set up how you want to be notified when your client receives a new review.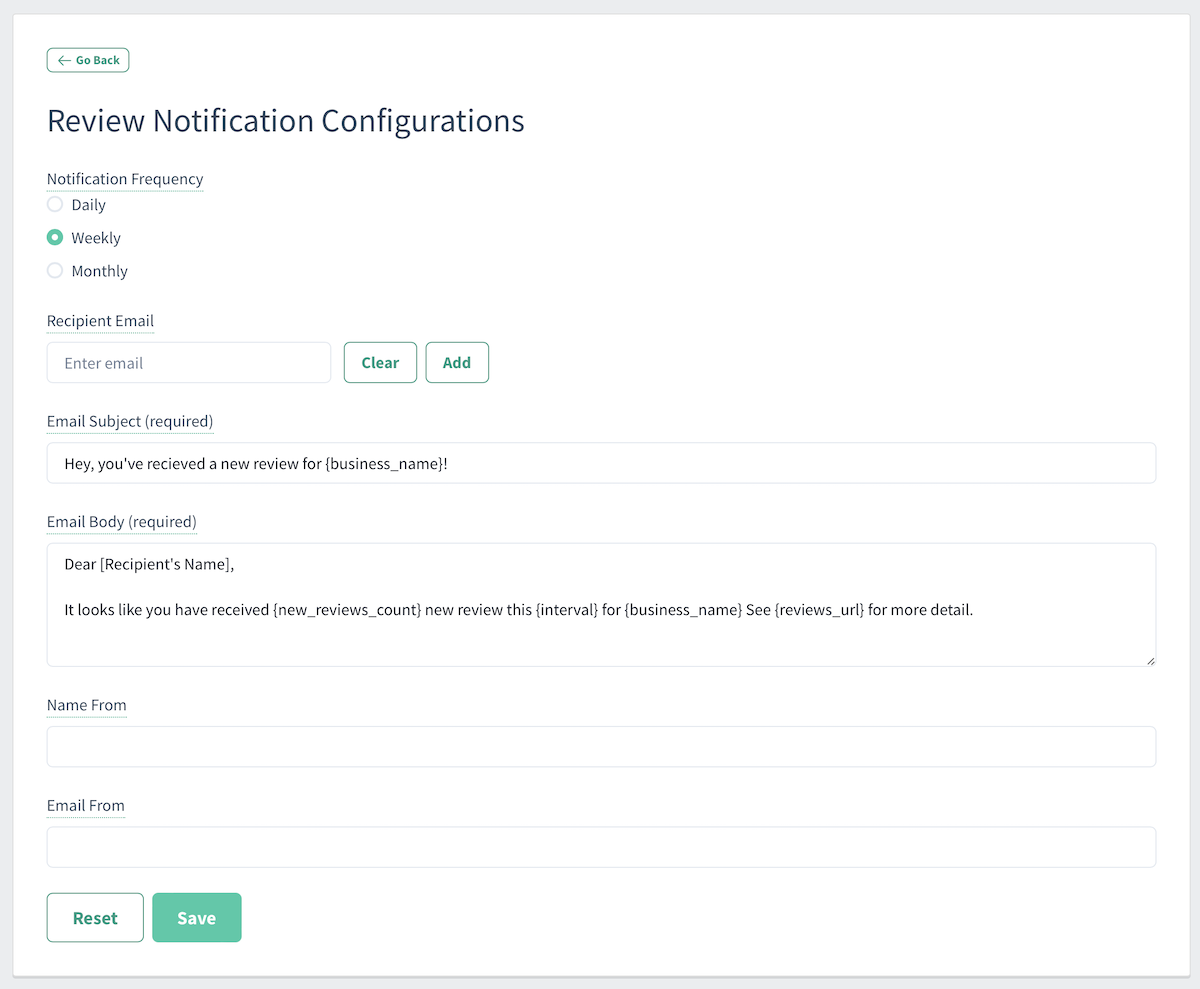 This review monitoring solution will better equip your clients to respond quickly to negative and positive reviews.
Try Our Review Monitoring Tool for Agencies and Local Marketers
At Advice Local, we create local presence marketing tools that agencies love. Try our Review Monitoring Tool and comprehensive dashboard solution today. Call (214) 310-1356 or request a demo.