It came to my attention a few weeks ago that our partners are not fully aware of an important benefit for the businesses they list in Advice Local's listing management solution. As you may know, we own Judy's Book – and this powerful directory helps businesses to get found around the web.

Judy's Book Is a Premium Directory With Premium Listing Features
Today I'm going to dig into each of the perks for businesses that are listed on Judy's Book. Some of these perks are available for all businesses, and others are available only for the premium business listings.
Judy's Book Is Trusted by Others
Judy's Book is trusted by many other sources. This means that other directories and data sources depend on the data in Judy's Book to populate their directories and provide information to their customers, such as reviews. More than 50 other review sites use the Judy's Book data. When a business is listed on Judy's Book it will reach customers beyond those who are visiting Judy's Book directly, as Judy's Book is a highly trusted resource for other directories and review sites.
We have partnered with a few select directories, such as Trusted Local Directory, who use the business listing data to populate their directory. So the businesses listed in Judy's Book are reaching their viewers also.
Judy's Book includes a TrustScore®. Directory listings with reviews have a TrustScore included with the listing. This TrustScore helps the site visitor evaluate whether this is a business they should also trust.

Judy's Book Has Voice Profile Technology Built In
As you may recall, earlier in the year we announced an upgrade to Judy's Book. This directory is even more powerful than before because it now has voice search integration capabilities.
Each business submitted through our technology to Judy's Book has the following schema markups applied.
Local Business Schema
Review Schema
FAQ Schema
Speakable Schema
These markup languages make it easier for voice assistants to answer questions about the business. Judy's Book is actually one of the very first directories to integrate this powerful feature. It's available at no additional cost for every active business listing within our technology. And it's all done automatically. All the Advice Local partner has to do is submit the business through our technology… we do the rest.
Judy's Book Includes Promotional Ads
Every premium listing on Judy's Book comes with 1,000 ad impressions per month. Plus, your clients' local businesses listed in our technology can advertise on other Judy's Book listings for free – there is no additional cost.
To turn this feature on, you'll need to log into your partner account, then select the business you would like to have ads generating for, and get the login credentials for the business. You'll need to log directly into Judy's Book to turn on the promotional ads. Here's an image showing what the setup looks like.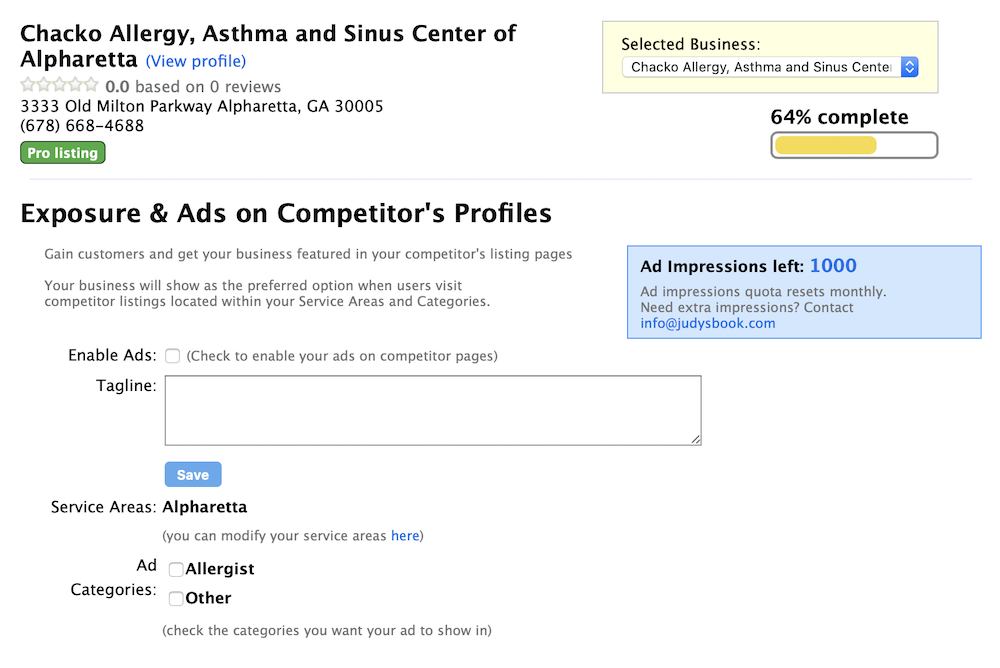 On Judy's Book the premium listings do not have promotional ads on them, so if you have a free listing on Judy's Book, you'll need to upgrade to turn off the promotional ads for other businesses.
Judy's Book Includes These Other Features Too
I have reviewed the most powerful features available for businesses listed on Judy's Book – but there are yet more perks available to these businesses.
Owner Messages – Premium listings include a feature allowing the business to add a message from the owner.
Set Service Areas – We automatically include the address service area when we do the listing distribution, but you can add even more.
Offers – Create offers that will display on the business listing. These will encourage the consumer to buy from this business, versus another business without an offer.
Links – You can add the business' social media links, appointment links and more to the listing. We add the business' website automatically through our listing distribution solution, but adding additional links can be helpful too.
Videos – Including a video on the business listing is possible as well. Just add the link to the video from YouTube and click save.
Add Keywords – Adding additional keywords to the listing will help it show up even more often, and higher.
Web Badges – For businesses wanting to feature their Judy's Book listing reviews or TrustScore® on their website, they can easily accomplish this with an embed code that is provided within the Judy's Book listing.
Review Notifications – Turn on the review flag within the reputation management section and provide an email address to receive notice when a new review is given on the business' Judy's Book listing.
Start Creating Premium Judy's Book Listings for Your Local Business Clients
The good news for current Advice Local partners – each business you submit into our listing management solution gets a premium business listing on Judy's Book. If you are using our legacy dashboard, you'll need to upgrade for this feature.
If you are not currently an Advice Local partner and need to know how to get started, request a demo today! Our team is ready to share with you all the features of switching to Advice Local's listing management solution.