Over the last month or so we have talked quite a bit about voice search and creating conversational voice apps. There is a big reason for this. Voice search isn't going away and voice assistants are here to stay as well. And getting a local business found by voice assistants is not getting easier.

At Advice Local, we are dedicated to helping local businesses get found. That's why today we are going to share how our technology has the markup that voice assistants love baked right in.
All Businesses Need a Voice App Solution
Local marketers and brands simply cannot afford to ignore such an important component of search. Using all the important markup languages such as Local Business Schema, FAQ Schema and Speakable Schema is essential to helping a local business get found in voice search.
Did You Know?
Our listing management technology automatically creates Local Business, FAQ & Speakable Schema Markup for all active business listings in our dashboard.
This voice markup is applied to all business listings on our directory, Judy's Book.
We have the JSON-LD available for you to download within our dashboard and get added to the client's website.
Within the Advice Local dashboard, for each of your clients' active listings, there is a section entitled Voice Search Data. To access it, you'll log into your partner dashboard, select an active client, click the Edit Client tab and then select Voice Search Data.
At the very top of this page you'll see a script. It says "Copy and paste the following code snippet in your index or default page inside the HEAD tag." This is the JSON-LD script – when you get this added to your client's website, you'll be able to provide answers about the business for voice assistants.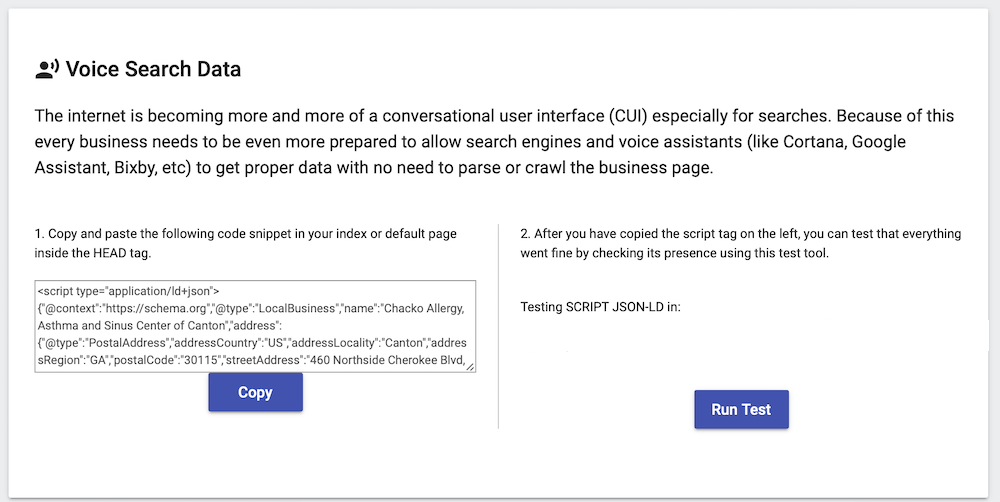 JSON-LD works dynamically. This means that any time you answer a question or change an answer to a question about the business within our technology, the new information will be available to the voice assistant. While you won't actually see the questions and answers in the script, they are there, because we have them stored within our technology. The script is a call to our technology to provide the answer to the question.
By the way, this is available for all the active business listings within our technology at no additional charge. It's only available for platform partners, so if you're on the legacy dashboard, you'll need to upgrade to have the Voice Search Data section.
Have You Answered the Voice Search Data Questions?
In the Voice Search Data section you'll find quite a few questions to complete. We have populated the most common questions for you, but if you answer the additional pertinent questions you will be increasing the chances of greater visibility in voice assistants for the local business you are editing.
Default Messages is the first section you'll come to. This section is focused on responses for the conversational voice app integration within our technology.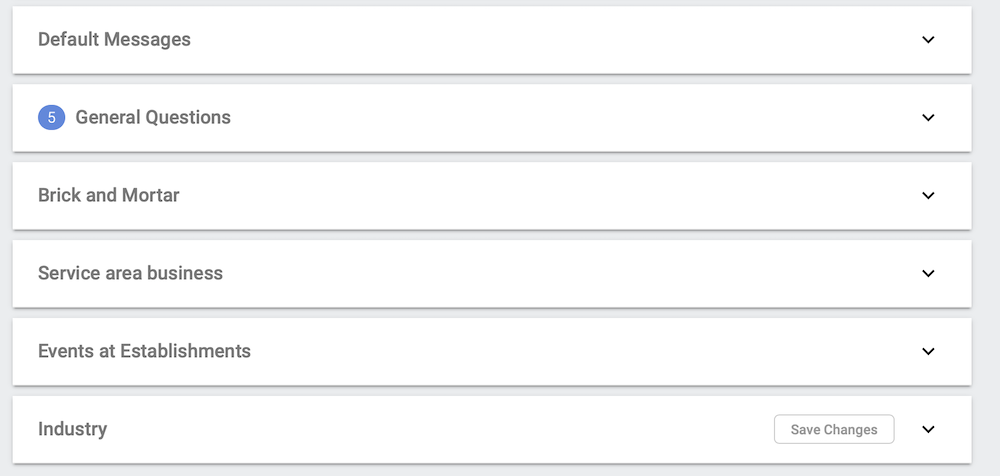 To get started, these are the primary sections you'll want to review:
General Questions – These are the basic questions about the business – for instance, does the business offer a military discount?
Brick-and-Mortar – These are questions about location, such as is the building handicap accessible, is parking available, free WIFI,
Service Area Business – Here you will address questions that answer what the business' service fee is, and so on.
Events and Establishments – These questions are directed toward whether the business has recurringevents such as Happy Hours, band performances, etc.
Industry Questions – In this section you'll select the business' industry, such as healthcare, home services, etc. The questions will differ based on the industry.
Adding Voice Search Data to Your Client's Website
We realize you may not be a web developer or won't have access to add this JSON-LD script to the client's site. We recommend you talk with your client about voice search, go through the questions with them in each section and get their answers.
While you're talking with your client about adding the script to the website, it would be the perfect time to upsell them on creating a conversational voice app.
If you're not yet familiar with our conversational voice app solution, our technology uses the answers to the questions within the Voice Search Data section to instantly create a voice app and submit it to the Google and Amazon app stores. Most voice apps are live within three days.
Not to brag, but our voice app solution is one of the first of its kind – and definitely the easiest to use – especially because we do all the heavy lifting. You can read about all of our voice features in our announcement.
Voice Search Usage Will Continue to Increase
I've said it before and I'll say it 1,000 more times if necessary – voice search isn't going away. By 2023 it's predicted that there will be over 8 billion voice assistants in use.
Are you helping your local business clients get found by voice assistants? Request a demo today and find out how we can help you.