The annual Local Search Ranking Factors report has returned for another year. As a provider of listing management services for agency partners, we are constantly tuned into the strategies and techniques that deliver results right now. And one of the best ways to gauge the opinions of the local search industry is by digging into the responses from 44 leading local SEO experts.

The 2023 Local Search Ranking Factors Survey
For those new to the report, the Local Search Ranking Factors survey has taken place every year since 2008. Industry experts respond to a series of questions, helping identify the conversions and rankings elements that are delivering in Google's local search results right now. This report also covers the 2022 ranking factors that are anticipated to help businesses throughout 2023.
However, it's worth noting that the survey results are not a definitive source for local SEO in 2023. This data is just the beginning of the conversation, allowing agencies, marketers and businesses to test their assumptions about local search. With Google treating industries, platforms and devices differently, flexibility is key – and every client requires a personalized approach.
What Local Ranking Factors Should You Focus on in 2023?
Local SEO experts were given 149 possible Google ranking factors and asked to estimate their importance. The results are broken down into local map/finder results and local organic results.

Local Pack/Finder Ranking Factors
Google Business Profile Signals (Google Business Profile) – 32%
On-Page Signals – 19%
Review Signals – 16%
Link Signals – 11%
Behavioral Signals – 8%
Citation Signals – 7%
Personalization – 6%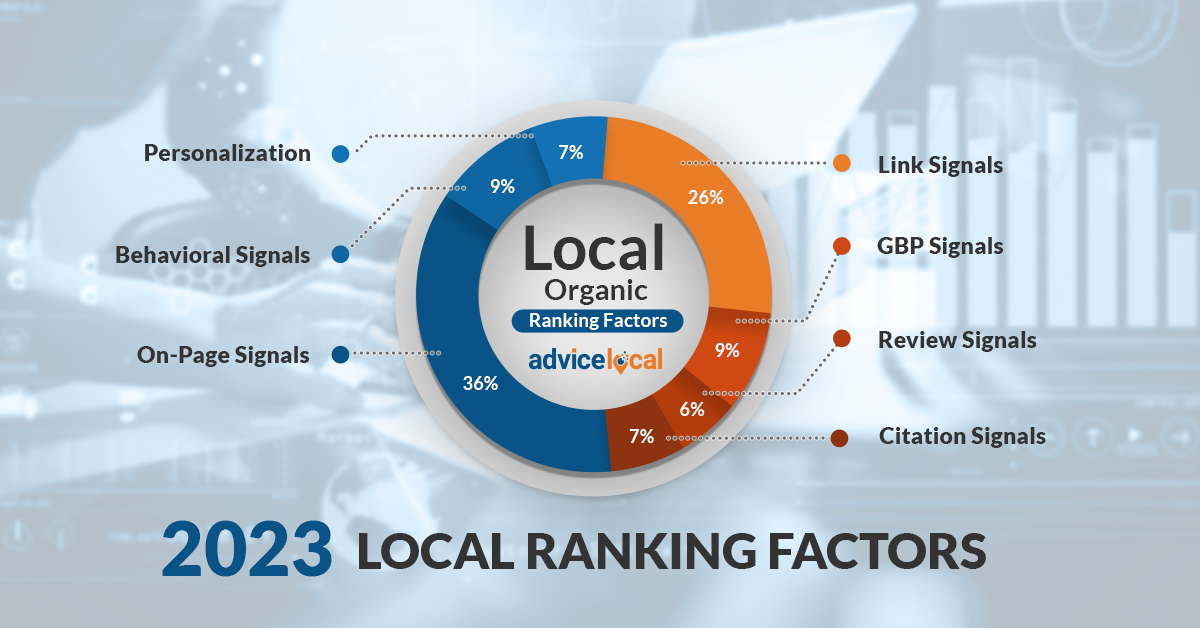 Local Organic Ranking Factors
On-Page Signals – 36%
Link Signals – 26%
Behavioral Signals – 9%
Google Business Profile Signals – 9%
Personalization – 7%
Citation Signals – 7%
Review Signals – 6%
Looking back to the 2021 Local Search Ranking Factors, the results undoubtedly have many similarities. However, there are also some subtle changes that are worth considering.
Google Business Profile Management Is Critical
Just as in 2022, this year Google Business Profile management should be a priority for your local clients. Google Business Profile is particularly important for local pack/finder listings, but signals also translate to organic search results. Some of the crucial factors noted in the survey results include selecting a primary Google Business Profile category, keywords in the Google Business Profile business title, proximity of address to the point of search and having a physical address in the city of search.
Here at Advice Local, we've been calling attention to the importance of a Google Business Profile listing for your business clients for years. Our agency partners are already well-positioned to maximize local pack results with our listing management, Google Business Profile Sync and other related tools.
Citations Still Matter
Survey results for citation signals have remained steady over the last few years. For most SEO experts, the need for citations is clear, but just how they should be prioritized is up for debate. Unfortunately, many agencies and businesses have suffered from a strategy that includes low-quality citations, irrelevant categories – and a focus on quantity over quality.
But as we discussed in a recent article, all directories are not created equal. To see any significant results from citation building, agencies need to reach relevant, high-quality directories. And you must make submissions with a purpose – think leading data aggregators, GPS accelerators, vertical directories and premier directories. See our Data Amplifier Network for the right approach to citation signals.
On-Page Factors Take on Greater Importance
On-page signals scored highly this year for both local pack and organic ranking factors. If you haven't been prioritizing your clients' websites, now is the time to adjust. Running an SEO audit is a great place to start, looking at keywords in title tags, weak content, a lack of internal linking and related factors. This year, prioritizing engaging, optimized content will be crucial for ranking.
Reviews Make a Difference
The report also identifies customer reviews as essential, particularly for local pack/finder rankings. Reviews have long been vital in building a robust online presence, and contribute to establishing an authoritative Google Business Profile.
As you may be aware, we have been discussing the need for a consistent flow of positive reviews for some time, and many of the contributing local SEO experts agree. Ultimately, reviews are just a part of a business' wider reputational health – a factor included in our Google Authority Score (GAS) metric. Make sure to run a GAS check using our Enhanced Google Business Profile Tool for Agencies and see how your clients measure up.
Try Our Industry-Leading Listing Management Services
At Advice Local, we help agencies and local marketers increase the search visibility of their clients. With our leading local citation and listing management services, clients have access to a range of tools dedicated to search ranking success. To see how powerful our dashboard solution is, request a demo today or call (214) 310-1356.