Instead of talking about Google Business Profile (previously known as Google My Business) today, I'm going to mix it up and talk about the importance of voice search optimization. What is voice search optimization, you ask? Excellent question.

Voice search optimization is really just SEO, but more specifically an SEO strategy – the using of long-tail keywords within a website's content.
Necessities for Creating Voice Assistant-Friendly Content
Researching questions that consumers are asking relating to your client's products and/or services
Including these questions and answers to answer the query within the business' website content
Adding FAQ schema on the pages that include these questions and answers
We have discussed voice search optimization and long-tail keywords before. Once you have an understanding of the keywords and keyword phrases consumers are searching that relate to your client's products and services, you are ready for the next step – applying intent.
A desktop search for A/C service; best times to get an A/C serviced; best times to get an A/C service in McKinney are going to vary greatly. I actually did these same searches in 2019 and have screenshots available at the link above.

Applying Intent to a Voice Search Query
Today, I did those exact queries mentioned above with the Google Assistant on mobile. The results were as follows:
The query AC service returned a search result for Carrier's website and then a few other options.
The second query, best time to get an AC serviced, returned a single answer – a featured snippet from a business' website that answered the specific question.
The third query, best time to get an AC service in McKinney, returned a single local business result for the closest AC company.
The main point here is that while each of the voice searches were similar, Google perceived each to have a different intent. A typed search result is going to differ greatly from a voice search result. In order to get a business to appear in voice searches more often, you must consider intent as it relates to your client's products and/or services. But, that's not all you have to consider.
Natural Language and Voice Search Go Hand-in-Hand
To help the businesses you represent surface for voice search queries, it's about aligning the long-tail keywords with the intent on a website. It's also about using natural language for voice search optimization. This is writing in a way that consumers would actually speak or ask their voice assistant a question.
There is more to ranking in voice search besides this, however. I analyzed ranking factors that influence voice search awhile back. I found a few factors to be important – page speed, HTTPS, brief-informative answers within in-depth content, authority over the subject matter, strong backlinks and ultimately, getting the featured snippet.
Voice Search Is Continuing to Grow in Popularity
Over the coming years, voice search is going to continue to skyrocket to new levels. You don't hear about it as much today because the fact is, now everyone is accustomed to it! Since it's not the new best thing it means there's plenty of opportunity for you as a local marketer to leverage it for your local business clients. There are still many businesses that are not optimized for voice search. This is the low-hanging fruit that you can reach up and grab with a few adjustments to your local marketing strategy.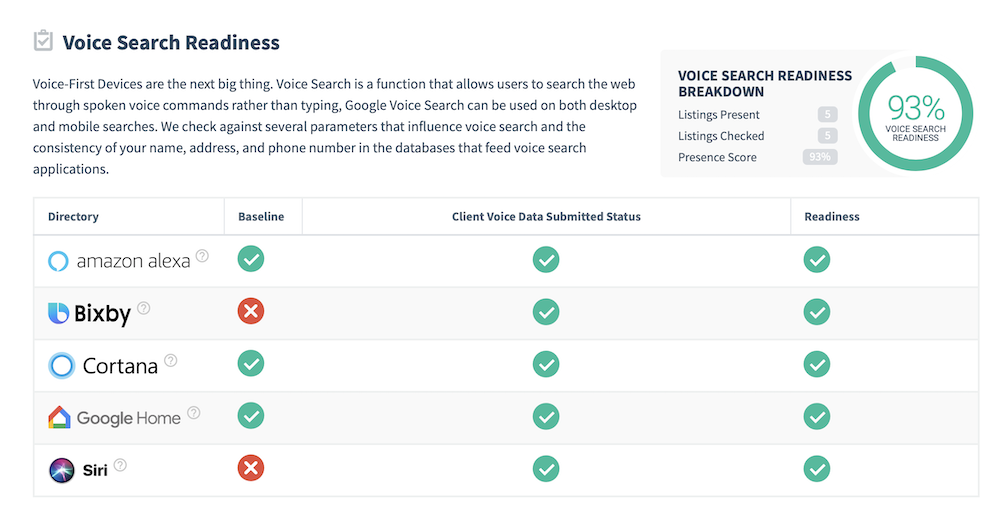 Advice Local Can Help With Voice Searches, Too
Did you know that we include a voice search readiness score within our Online Visibility report? This is a great way to see if your clients are getting found by the voice search devices. Our listing management solution includes voice app creation technology. You can create a voice app for your client that's ready to submit to the Google Assistant and Amazon Alexa app stores within minutes. It's fast, easy-to-use and affordable.
We Provide the Schema Markup to Add Voice Search Data to Your Clients' Websites
From your Advice Local partner dashboard you can access the schema markup that integrates Local Business Schema, FAQ Schema and Speakable Schema to add to your clients' websites. Voice assistants (and your clients) will love you for doing this.
If you are shopping for a new listings management partner or considering a change, request a demo from Advice Local. A member of our sales team can share with you all about our voice search features and much more.