If you've been paying close enough attention over the last few months, you may have noticed I've been walking you through our Advice Local partner dashboard and all the features available. Today, I'm going to dig into our listing management solution a bit more.

There Is More to Consider Than Price When Choosing a Listing Management Partner
While you may think listings management services are all the same, and that price is the main factor to consider, I beg to differ. The directories the data is distributed to, the quality of those directories – and how the listing management company distributes data can be quite different.
How Do They Distribute Business Data?
At Advice Local we offer a hybrid approach to listing management. Business listings are created and/or managed manually, completed through a bulk import and/or created via an API.
Additionally, we distribute data in real time. Once you enter a business into our system and place the order, a business' data starts distributing right away. You can actually watch the business' Visibility Score start increasing immediately. This is a powerful selling point, and enables our partners to start showing results to their customers quickly.
The Baseline Score is established the first time you run an Online Visibility Report for the business, and will always remain the same. It is the Visibility Score that shows improvement over time.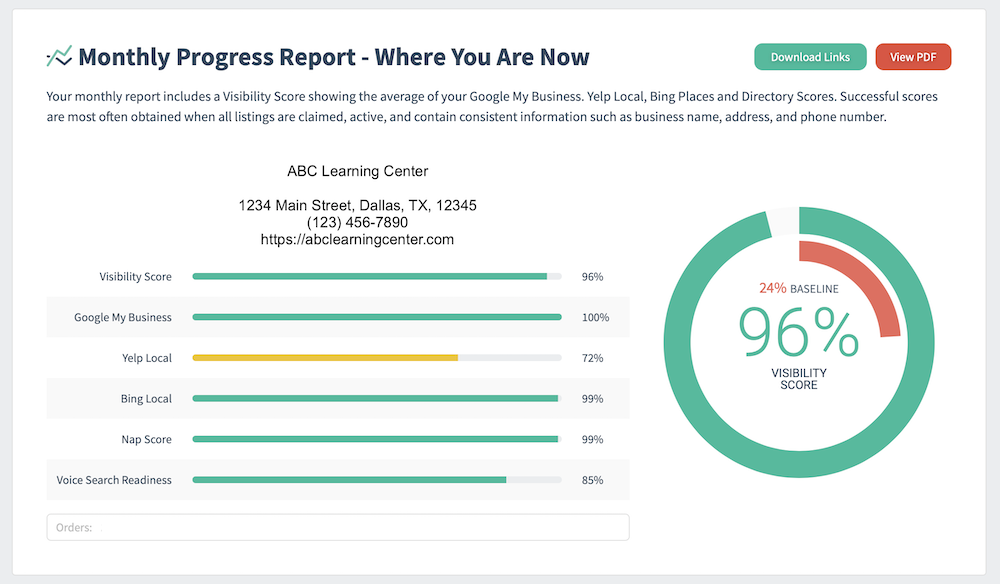 As you can see for the example above, this business' Baseline Score is 24%. When this screenshot was captured, the business' Visibility Score was 96%. Since this business' Yelp listing hadn't been claimed yet, their Visibility Score was a bit lower than it could be.
Where Do They Distribute the Business' Data?
As mentioned above, the directories the listing management provider submits to is also important. The old school of thought was the more directories a business is listed on, the better. However, note that Google has actually stated that links from "low-quality directory or bookmark site links" can hurt a business.
We also share how we select directories to be part of our listing management solution. The decision is based on 23 different metrics including domain authority, page rank, backlink trust flow, backlink citation flow and organic traffic.
Do They Distribute to Premium Sites Like Judy's Book?
We look to directories that have quality characteristics and include features for our listing management partners. Judy's Book, for example, is a directory where a business can have a free listing. Businesses that are listed through our listing management service get a free premium listing on Judy's Book.
The premium listings on Judy's Book do not have ads displayed on them. The premium listings include 1,000 monthly ad impressions, which display on the free listings. All you have to do is log in to the business' Judy's Book listing through your partner dashboard to set up the ads.
Judy's Book has Voice Profile Technology integrated into it. Each business listing on Judy's Book has Local Business Schema, Review Schema, FAQ Schema and Speakable Schema added automatically.
Do They Amplify Business Data to Other Directories?
Judy's Book is also considered a Data Amplifier. Other directories and data sources depend on Judy's Book data to deliver information to their customers. Judy's Book data is used by more than 50 review sites. Judy's Book is just one of the amplifier directories included within our listings solution.
What Other Features Do They Include With Their Solution?
I've actually shared some key questions to ask about your listing management partner, and highlighted a sampling of our included features.
A few of the features we include for Advice Local platform partners are Yelp public edits, distributing to data aggregators, GPS mapping apps, Google Business Profile (formerly Google My Business) Sync and auto-rejection of GBP public edits all for free.
We have another feature which is extremely valuable for businesses, and is available through your partner dashboard. This is Speakable Schema Markup, which can be added to the business' website to help voice assistants understand the business, their products and/or services.
Are You Ready to Shop for a New Listings Management Provider?
I've taken you on quite the journey today. And there's much more to Advice Local and listings management than what I have tackled here. Request a demo today and get a one-on-one walkthrough of all our listings management features.