Welcome to the future, where we're already considering how to market to Gen Z's grandchildren. OK, maybe that's taking it a little too far, but I do wonder what mobile will look like at that point. In any event, it's that time again, Mary Meeker of Kleiner Perkins Caufield & Byers (KPCB) has blessed us with their annual internet trends report, and it is a treasure trove of information. She blew through just over 200 slides in no time at all to give us a look global trends, the state of advertising, commerce, big data and more.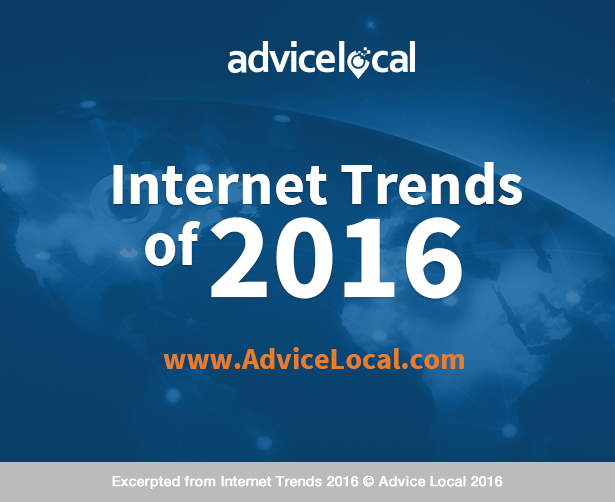 We know time is of the essence and everyone is trying to figure out what parts of this massive presentation to implement and where. We've gone through the document to grab some of the biggest highlights and put it in infographic form, to make it easy for you to run with and implement.
2016 Internet Trends Report Breakdown
Below I'll look at seven hot topics, taking the infographic piece by piece. To see the whole picture and get a link to share or embed, click here.
1. Global Internet Users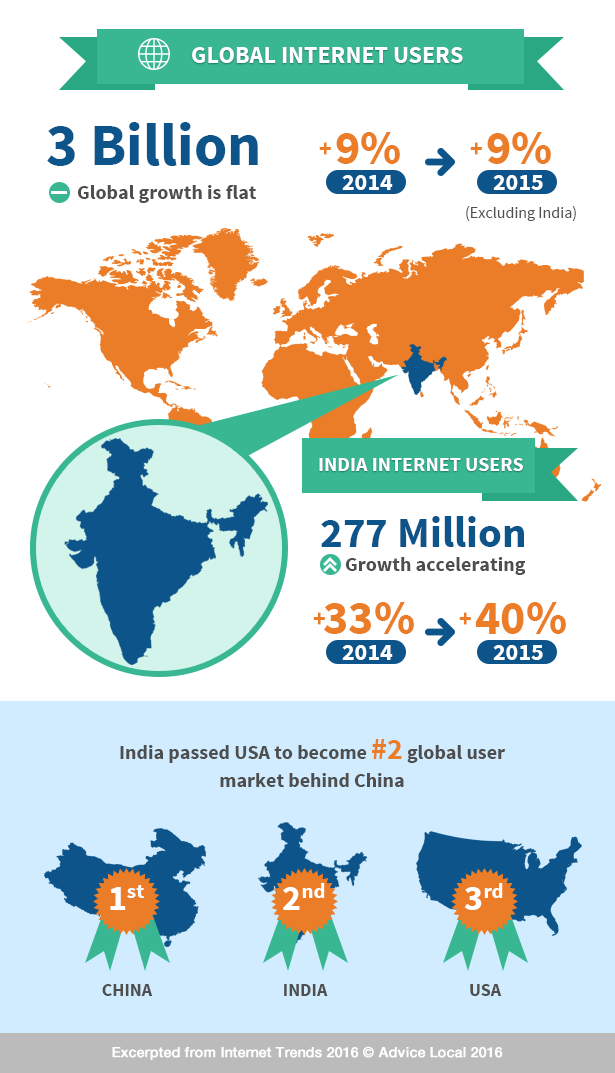 In the past year, global growth amongst internet users was flat at nine percent year over year. And if you exclude India, where explosive growth is happening, it would appear to be receding with only seven percent year-over-year. As it stands now, India has passed the U.S. to become the number two internet user market behind China with an incredible increase 40 percent to 33 percent year over year. This now makes the U.S. the third largest global internet user market, which doesn't change what we do day to day here in the States. But for those with international audiences, especially in Asia, this is great news as it's giving you more places and more chances to connect.
2. Global Smartphone Users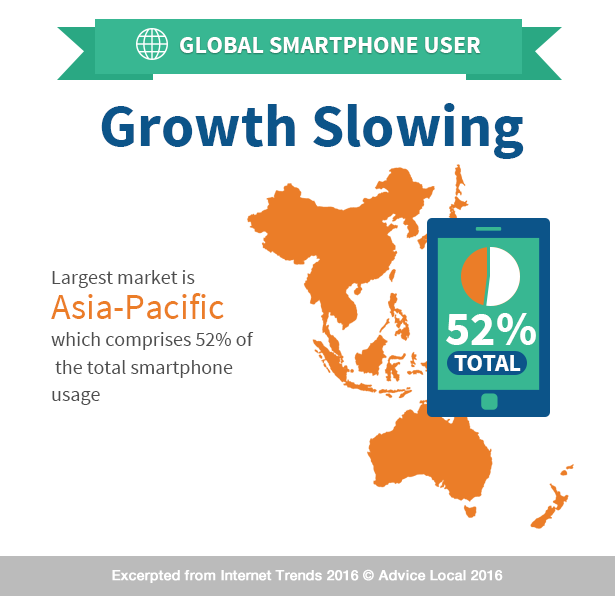 The number of new smartphone/ internet users is slowing, globally. This is of course, due to high penetration rates. Again Asia-Pacific is showing promising growth, with 52 percent of total smartphone usage in that region. The multiple areas where penetration is low and where the opportunities exist for new users are those areas which tend to be less developed and less affluent.
Even with slowing growth in the developed world, in America 46 of smartphone owners feel their phone is something they cannot live without. And it appears Android is continuing to outperform iOS with positive year over year growth. Although new users are down, this in no way means mobile is out. As you well know, smartphones (mobile) have redefined the ways we conduct business from search to advertising. Consider Google's Micro-Moments campaign, which helps businesses to focus on the moments that bring their brands before consumer's eyes.
Are the businesses and brands you represent easily found in those moments consumers turn to search to learn how to do something new, or make progress toward a major goal, or to locate a doctor or home repair professional? It's important to take control of online data to ensure your clients show up in these searches moment after moment, time after time. To get an idea of what your businesses, or even the competition, looks like online right now, click here to run a free report.
3. USA Internet Advertising Growth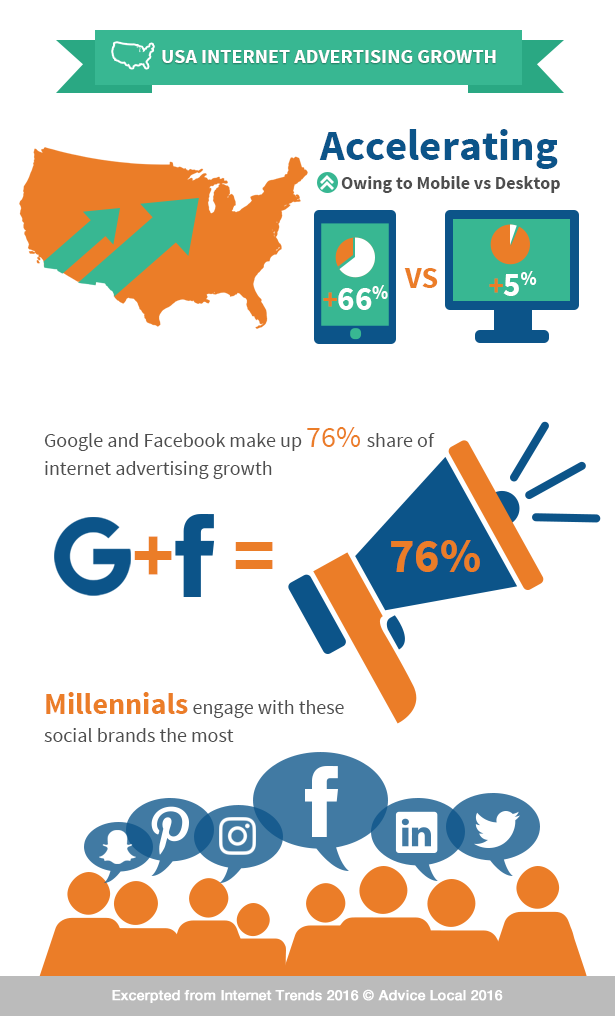 Overall, global economic growth is slowing with six of the last eight years coming in below the 20-year average. That part may not be encouraging, but we are still recovering from the recession that affected most of the developed world. Having said that, however, internet advertising is accelerating in the U.S. with 20 percent to 16 percent year-over-year increase. Much of that, unsurprisingly is on mobile, with an increase of 66 percent, while desktop only saw five percent growth.
For those of you who wonder if social ads mean anything, Facebook saw a 59 percent increase in their share of internet advertising. Google, which dominates, and Facebook combine to make up a 76 percent share of internet advertising revenue. And now, with platforms like Facebook Canvas rolling out on a larger scale, it will be interesting to see how advertisers use it to engage their target audiences. And of course, Google is rolling out big changes to AdWords, which makes me wonder how much greater this percentage will be next year.
And for the market segment everyone is targeting, Millennials are captivated often by social media. Their spending power is expected to rise significantly during the next 10 – 20 years. Currently at 27 percent, they make up the largest segment of the of the population. Are you preparing the proper messages to reach them, with the proper media, in the proper channels?
4. Millennials vs. Generation Z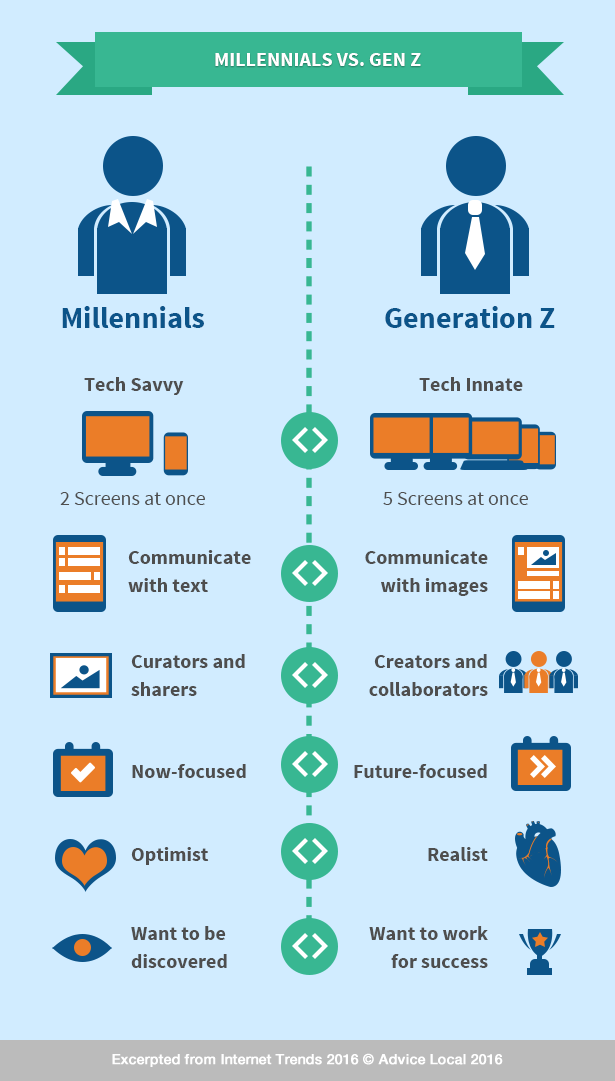 The battle for the attention of the generations known for short attention spans will be won by meeting them where they are with the non-traditional messages they love. As I said, we're often looking for how to reach Millennials but we can't neglect the generation coming of age right behind them, and the many differences between the two.
The best way to reach both is through social media and chat, with Millennials often in front of two screens at once, while Generation Z braves up to five; talk about having "always-on" behavior! Where Millennials are curators and sharers of content, the younger generation tend to be collaborators and creators.
They also differ when it comes to communications styles, focus, the way they see the world and their aspirations as well. However, marketing to both must be creative, as most traditional approaches can be expected to fall flat. These generations have been marketed to strongly, all of their lives; they are not interested in the typical methods and will use ad blockers to keep it out.
5. Video Usage, Sophistication and Relevance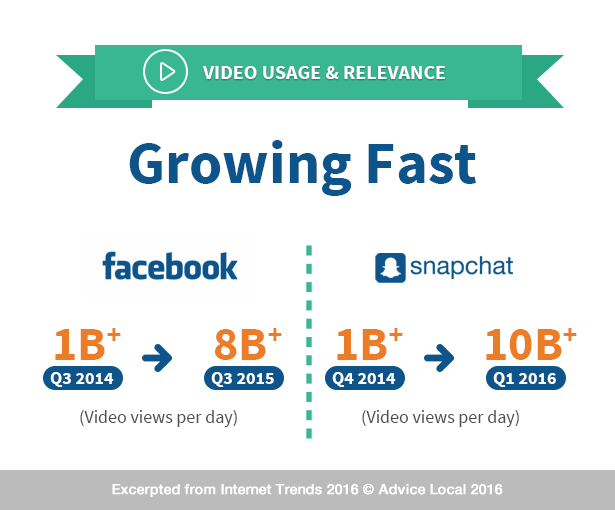 One of the most creative ways to engage these content sharers, curators and creators is through video. Platforms like Facebook, Snapchat and Instagram are growing rapidly due to both generations love for video and images. The graphic shows the exponential growth of video views per day for both two of the major players.
Are you involved in these spaces, with content that makes sense? Are you engaging audiences with brilliant stories that match the evolutionary patterns of communication? According the presentation, smartphone usage is increasingly becoming Camera + Storytelling + Creativity + Messaging/ Sharing. Brands have a great opportunity to get their name in front of the right audiences. Meeker said during her presentation that Gatorade's Snapchat filter for the Super Bowl was seen by more people than the actual game itself!
6. Messaging Platforms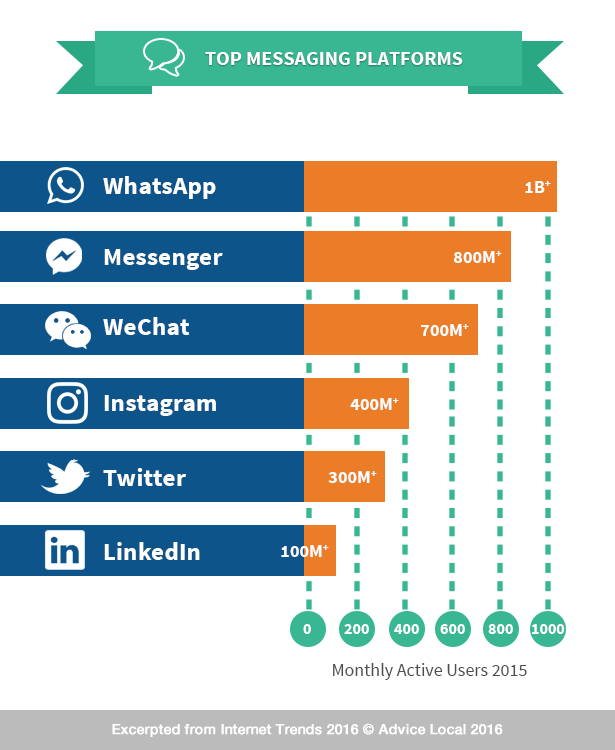 Messaging, too, has evolved over time to have more of a richness in internet land; instead of simple conversations, it's expressive communication. Who else remembers trying to get the right series of symbols to make old-school emojis? Now a simple click or tap on the right funny face, object or even a lens or filter lets others know what we're thinking, how we're feeling or even who and what we support.
When it comes to the industry, messaging is evolving to include business-related conversations, as well. This is what happens outside of the typical social messaging landscape shown above. Those companies who engage on these social channels with customer service, are experiencing growth.  As you can see, WhatsApp, Facebook Messenger and WeChat are leading the charge and present avenues for businesses to engage in what was described as "conversational commerce."
7. Voice Search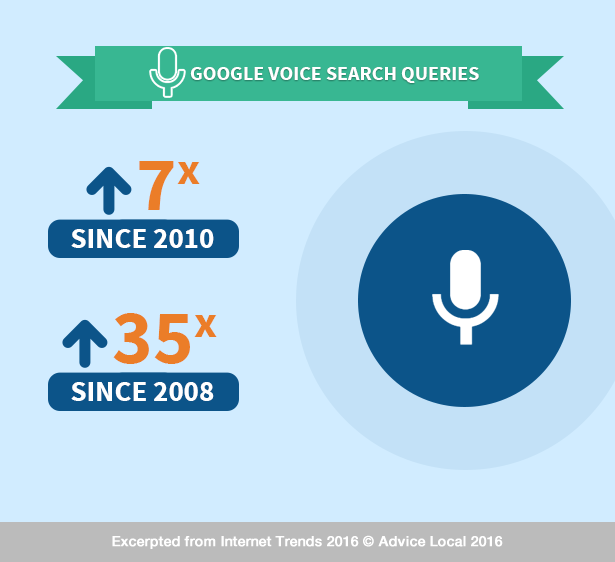 Who else talks to their mobile or other connected devices? I've talked about my fondness for Google Now before, and it would seem I am not the only one. Voice is fast and easy, as long as language engines keep up. There have been so many discussions on the updates to Siri, recently announced at Apple's developers conference and Google showed off their new home device, and we can't forget Amazon's Alexa.
Google recently stated speech recognition by these powerful machines is at human recognition level in low-noise environments and is rapidly improving on the major platforms. Thanks to these kinds of advancements, voice search queries are up at a rate of 35 times. The top reason people turn to this form of search is because it is both hands and vision free. When it gets down to local search especially, have you done the work necessary to ensure the businesses you're responsible for populate the proper information? That can be the difference between a call hitting one of your locations or the competition.
To 2016 and Beyond
Now that you're armed with this information, how will you use it to transform your marketing strategies? Will video and images begin to be peppered into your content? There is so much more that could not all be covered in our infographic, so to review the whole KPCB report, click here. And to download, share or get the embed code for our infographic, click here.
Did you review the whole presentation? What trends surprised you the most? Tell me about it in the comments.