Creating and managing a Facebook Page is a great way to expand a local business' online presence and stay in touch with local shoppers. But there's another reason businesses need to stay active on Mark Zuckerberg's social site: to provide on-the-go customer service through Facebook Messages.
KPCB's 2017 Internet Trends Report revealed that 60% of consumers want easier access to customer support. Using Facebook Messages is one specific way local businesses can meet this need. The report also shows that 21% of consumers want access to live support. Live support coming right up: Facebook Messages will show customers an alert when the Facebook Business Page is available for live chat. Keep reading on how to get started!
Enable Facebook Messages on the Facebook Business Page
Invite customers to contact the page by enabling the "Message Us" function on the Facebook page.
Follow these steps to turn it on:
Go to the Facebook Business Page
Click Settings
Click General
Check the box next to "Allow people to contact my Page privately"
Click Save Changes
Once enabled, customers can use the Facebook Messenger app on their smart devices to communicate with the business page, or through the message functionality on desktop.
Connecting to Local Customers with Facebook Messages
1. Converse with Consumers
Facebook Messages allows a business to have real conversations directly with their customers. Don't let team members fall into the habit of copying and pasting generic answers to common questions. Make sure each response is personalized. It's better to approach each customer contact like an in-person conversation with a customer visiting the local business.
The best way to engage with people on Facebook is to respond earnestly and in real-time. Team members shouldn't be afraid to simply have a conversation.
Consumers who visit the page will get an "Active Now" alert when the page is available to respond immediately. Here's what it looks like: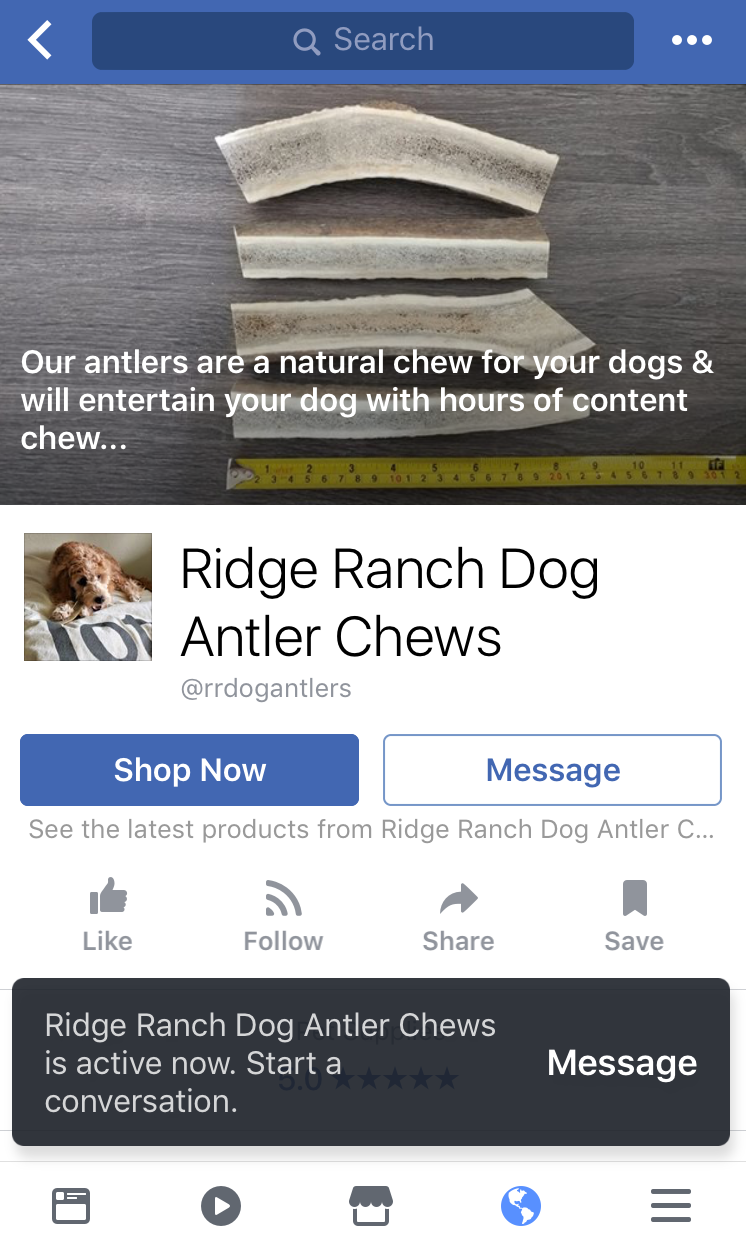 2. Get the Timing Right
The business' average response time is listed on the Facebook page, so faster responses not only mean better customer service, they also encourage more messages in general.
After all, wouldn't you be more likely to message a business that responds within ten minutes over one that takes 24 hours – especially if you have a quick question that might influence your decision to buy?
Response time is key, but response consistency also plays a role in managing customer expectations. For instance, if customers get a response within a minute the first time they message the business, then hear nothing for two days the second time, they're going to feel frustrated.
Facebook Messages is a form of instant messaging, so instant responses are preferred. Unfortunately that's not always possible, especially for smaller businesses with smaller teams.
3. Make a Positive First Impression
So the business doesn't have the resources to keep an eye on Facebook Messages 24/7? That's OK! Set up an automatic greeting with Facebook's Response Assistant, setting the expectations for when the consumer can expect a reply. (Also include an alternate method to contact the business directly for a quicker response.)
To set up the Facebook Response Assistant:
Go to the Facebook Business Page
Click Settings
Click Messaging
Once you're in the messaging area, read through the various options and set up the automatic greeting.
Once a team member is ready to chat, they should introduce themselves and thank the customer for their patience. Remember, consumers are people, and they're using Facebook – a social network – to contact the business. Something as simple as a friendly introduction helps the business to build rapport.
4. Use Public Data to Personalize the Interaction
Not only can businesses use social media to improve communication with their customers, they can also use it to provide more personalized service. This is especially possible with a platform like Facebook, that gives businesses access to tons of information about their customers.
When someone sends the business a message, team member should be encouraged to do a little digging. Details like the user's gender, location, age, and even hobbies are often publicly available on a person's Facebook profile – enabling team members a better opportunity to personalize each customer's experience. If there is a conversation history, the team member should read it.
Local businesses can use Facebook to connect with more consumers and provide amazing, responsive customer service.
Consumers are Going Mobile – Are You?
Did you know that mobile usage has doubled in the past three years? Yep, and on average, consumers spend 116 minutes every day on social media. With more than 2 billion monthly active users, Facebook certainly takes up its fair share of those minutes.
It's time to start providing consumers and customers the opportunities they hunger for via messages, mobile and more! Request a demo today and find out how our mobile app solution, live chat and other solutions can help you!