While no one loves the idea of getting another email, the simple truth is growing a list is an important component of lead nurturing for every local business. Consumers that want to know about a business' products and services will subscribe, but if they don't hear from them, they'll tune out and move on to another business that is emailing them.
Beyond using an email newsletter to maintain a relationship with current customers, it keeps the business top-of-mind for potential customers and interested consumers.
It seems that half of consumers check their phone first thing in the morning (yes, this includes me), so I can confirm that an engaged email list is a valuable local marketing asset. Many of the emails I receive from companies I want to buy from or restaurants I want to visit, I'll flag and save until the time is right. I'm guessing you might do something similar.
Right now, I'm going to share some of the ways local businesses have worked their way into my email inbox (and maybe yours too).
8 Tips for Local Businesses to Get More Email Subscribers
1. Invitation to Opt-in at Checkout
Existing customers – especially those who have recently made a purchase – are primed to become an email subscriber. They've already made the choice to buy and will likely be interested in upcoming news, events, and discounts related to the business.
But timing matters here. The best moment to ask a customer to opt-in to a mailing list is during or directly after checkout, when the business is on their mind and they're feeling good about making a new purchase.
Businesses should keep a sign-up sheet, postcards or tablet at the checkout and simply ask customers if they'd like to subscribe to receive exclusive offers and insider information (or whatever benefits subscribers should expect to receive via email).
2. Send Email Receipts
Offering to send receipts by email is convenient, environmentally-friendly, and the perfect opportunity to get new email subscribers. Giving customers the option to receive electronic receipts provides an excuse to recruit them to a mailing list (even if they passed up on the opportunity earlier). Email receipts are also a great opportunity to ask for customer reviews and feedback.
3. Provide Exclusive Discounts
A discount or promo code that is available only to email subscribers incentivizes more people to opt-in. Businesses hoping to collect customer emails should offer a tangible reward for subscribing that goes above and beyond interesting email content. After all, customers who haven't read the newsletter yet may not see the value in signing up if there isn't an immediate benefit.
Use these exclusive offers to bring local shoppers back more frequently, perhaps by setting a time limit on the validity of the discount code or bonus being offered.
4. Offer Free Downloads
Another way to incentivize email subscriptions is by offering high-quality, downloadable content to consumers who join a mailing list. For instance, a handy how-to guide, relevant resource, or even a simple checklist that can be accessed in exchange for an email address will catch the attention of consumers who are interested in the business.
Remember to promote the free downloads at the store in addition to on social media, the blog and website to maximize exposure and capture as many relevant leads as possible.
5. Put Subscription CTAs Everywhere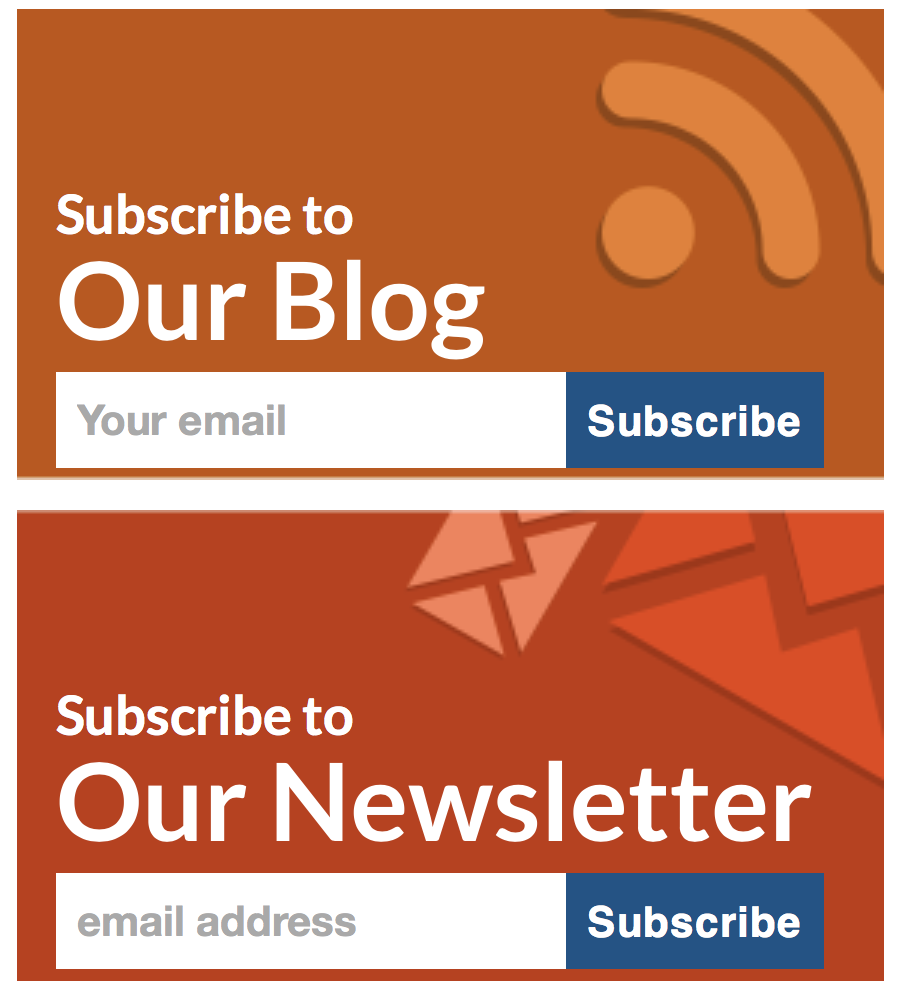 Make sure the subscribe form is accessible and visible in as many places as possible. (To the right is an example of Advice Local's. This appears on the right of every blog post.) This means posting calls-to-action and links to the subscription form on social media, in email signatures, and on every page of the website that makes sense.
Businesses that opt for a pop-up box on their website must be careful not to annoy potential subscribers by displaying the pop-up before visitors have a chance to browse the content. Wait a minute or two before asking for a visitor's information and prevent pop-ups from displaying multiple times on a given day. (Also, be aware of Google's Interstitial Penalty as it relates to pop-ups.)
6. Streamline the Opt-In Process
In order to make it as easy as possible for customers to sign up for the email list, add the opt-in form as part of the page template. This ensures it is visible on every page and removes the extra step of the consumer having to click on a link to a new page to complete the form.
The goal is to remove any barriers that might discourage potential subscribers from taking action. For instance, consider only requiring the customer's email and first name – but give them the option to include more details if they want.
7. Create a Referral Program
In addition to offering enough value in the newsletter or exclusive discounts that subscribers want to share it with their friends or colleagues, it doesn't hurt to provide a more tangible reason for them to go through with the recommendation.
Offer a simple referral program that rewards consumers who on-board new subscribers. Promote the referral bonus in emails to current subscribers so they'll know about it, as well as in-store where local customers who aren't yet subscribed can discover an extra perk to joining.
8. App It
That's right, I said, "app it!" Local businesses that have a mobile app can easily include an email opt-in, so it's at the fingertips of their customers and prospective customers all the time. With a mobile app, the business can send push notifications to consumers about special offers and contact them for longer communications via email. (BTW… if you need a mobile app solution, here's a mobile app creator that is so simple even my grandma could use it.)
It doesn't seem right to close this post without inviting you to join our list! Don't worry, I have you covered with a free download (tip #4). Here's a free resource, Making the Most of the Mobile Experience, for those of you that need an extra incentive.