For the last three days we've revealed brand new products—GPS POI integration, niche citation packages and API syndication—we're rolling out in the coming days and months. Today, we're announcing a product that we've never before offered through our Dashboard. Additionally, we're one of the only companies in the industry with the infrastructure to offer this type of service. With Advice Local, you'll not only be able to get your listings under control, but now you have the power of a full-service digital agency at your fingertips. That's right. We're making an entire digital marketing agency available to you.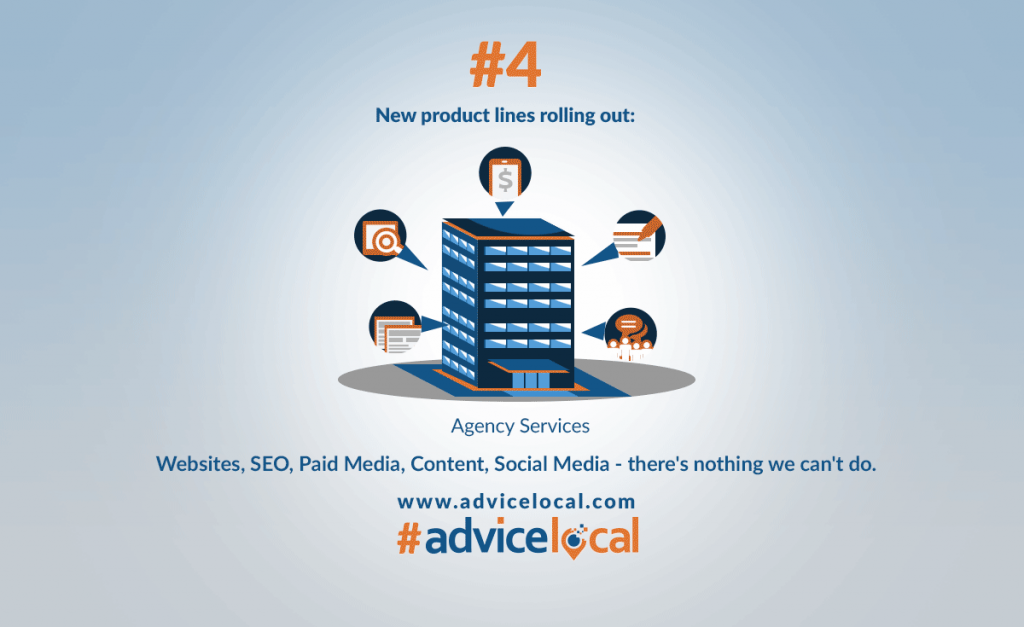 What Can a Digital Marketing Agency Do?
Our award-winning digital marketing agency has years of experience with myriad industries and verticals. It is equipped to do almost anything you can put your mind to. Some of our most popular agency services include:
Building templated and custom websites
Launching and managing SEO campaigns

On-page SEO
Technical SEO
Mobile SEO
Keyword research
Backlink analysis
Penguin/Panda recovery

Creating optimized Web content

Webpages
Blogs
Infographics
eBooks
White papers
Video

Paid media solutions

Google AdWords
Gemini
Bing Ads
YouTube advertising
Facebook advertising
Programmatic advertising
These services are in addition to our comprehensive local SEO packages currently offered through the Dashboard.
Why Do I Need a Digital Marketing Agency?
We have many clients who currently use Advice Local but employ a completely separate company to handle their SEO and web development needs. We're taking away the hassle of managing multiple teams and bringing everything under one simple umbrella.
If you've never worked with a digital marketing agency, then you may be unaware of all the ways it can benefit your business. Namely, working with a digital marketing agency can improve your organic and local visibility more than a listing distribution service alone. With proven SEO tactics, our team can analyze your current performance and identify ways to help you start climbing in the rankings and ultimately bring in more sales.
Our paid advertising strategies result in increased conversions. The Advice Local PPC team manages local and national brands, each with unique goals. We've even had client feedback that their customer service department couldn't keep up with all the qualified leads we were sending their way.
Having a sharp, eye-catching website lends credibility to your potential customers. Our websites are mobile-responsive and customizable for your business' specific needs.
You can have the most beautiful website, but if it's filled with mediocre content, your customers are going to go elsewhere. Our content is written by the best writers in the industry who have years of experience in multiple verticals. We create content with the goal of bringing you more leads, and it is proven to do so.
We'd love the opportunity to talk to you more about our award-winning agency services. For more information, contact us today or schedule a demo. Don't forget to get a sneak peek of our new brand before we launch March 7!