Day three! We've received such great feedback this week with our first two product announcements, GPS POI integration and niche citation packages. Today we reveal another, yes another, new product to help businesses expand their online visibility: API syndication.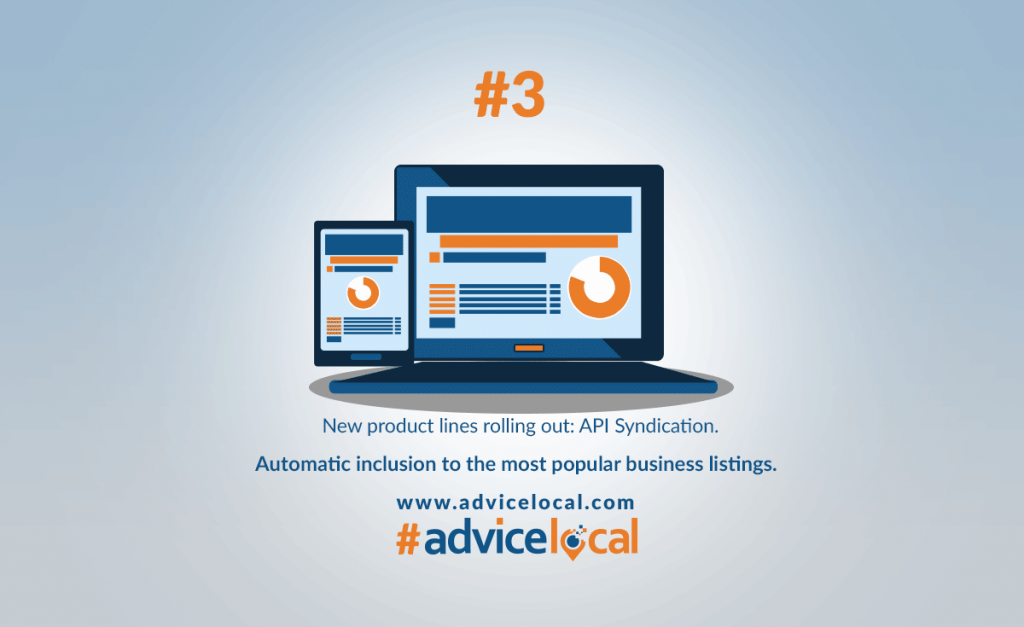 If you've been a Advice Local customer for any amount of time, you know that for years we've been the leader in the industry when it comes to manual submissions. As our industry and clients' needs evolve, we see that there is a major opportunity through API syndication.
What is API Syndication?
Our real-time API syndication distributes business listings to superior quality business directories, profiles and data aggregators that have a high impact in the local search ecosystem, ensuring that your citations represent accurate NAP information across the Internet. With manual submissions, we take your business information and manually enter it into hundreds of listing sites. If there is an error, or the listing gets merged, delisted or dropped from the publisher, our Local Safeguard notifies our maintenance team, they fix the error and we resubmit the listing. With API syndication, we can submit your information to dozens of sources all at once. These listings will have automatic submission, which means that barring any errors, the listing will definitely show up and there is less chance of denial. Should an error exist, we receive a notification, fix the error, and push the listing live.
For business owners, this means you can get your listings submitted and live in a shorter amount of time. For resellers, you can bundle this product with your other service offerings. The API syndication product is for everyone, from our channel partners to agencies, resellers and single location businesses.
Manual vs. API
Although API syndication may give you instant gratification, you should consider that SEOs still see great value in manual citation building. Even with the advantages offered by paid programs, like automatic submission and refresh, SEO professionals generally agree that it's better to play the organic game. Our product plays on the strengths of both processes, ensuring our clients are receiving the greatest local visibility.
Our manual submission process is not going away. We're still committed to finding the highest quality citation sources on the Web, vetting them through our rigorous 23-point metric process, and ensuring all NAP data remains accurate. Our API syndication product simply complements the industry-leading manual process we've already developed.
What Does the API Syndication Product Look Like?
We're still making final changes to the product, but you will soon be able to order this package through the Dashboard. We're excited to be able to offer citation sources like never before. Some of these exclusive API sources include Company.com and Chamber of Commerce, which are typically difficult sources to attain.
For several API syndication sources, your listing will go live instantly. We're among a small number of companies offering Google My Business Instant Verification. No more postcards to keep track of. And that's just one example. We'll be sharing more information as we get closer to the official product launch.
If you have questions about our API syndication package or want to learn more visit AdviceLocal.com and request a demo. One of our team members will  show you the ins and outs of our industry-leading product.