Last week we looked at business listings, bad data – and everything you need to do to get this process right. This week we're focusing on Google's growing push for verticalization, why you need to pay attention to Google Business Profile (GBP) (formerly Google My Business) attributes – and just what this all means for your clients.

Are Consumer Search Habits Influencing Features Google Adds to Google Business Profile ?
A few weeks ago, we discussed an article published on Street Fight about Google and personalization. We focused on Google's desire to offer more personalized search results by extracting information from GBP listings. This week we'd like to discuss post two in that series and add our insights.
Google Business Profile Is Using GBP Attributes to Create Verticals
As Damian Rollison from Street Fight indicates, verticalization is not a new concept for Google – they've been using it with their Local Services Ads product for a while now. But have you noticed how Google is offering a growing list of verticals using attributes?
You may recall last year we recommended adding attributes to GBP listings. Attributes help searchers find exactly what they're looking for and increase the chances of being listed for a search term with an attribute modifier. As Google continues to expand the number of available attributes, businesses have a wider scope to meet specific customer requirements – think eco-friendly, women-led, wheelchair accessible, curbside pickup and more.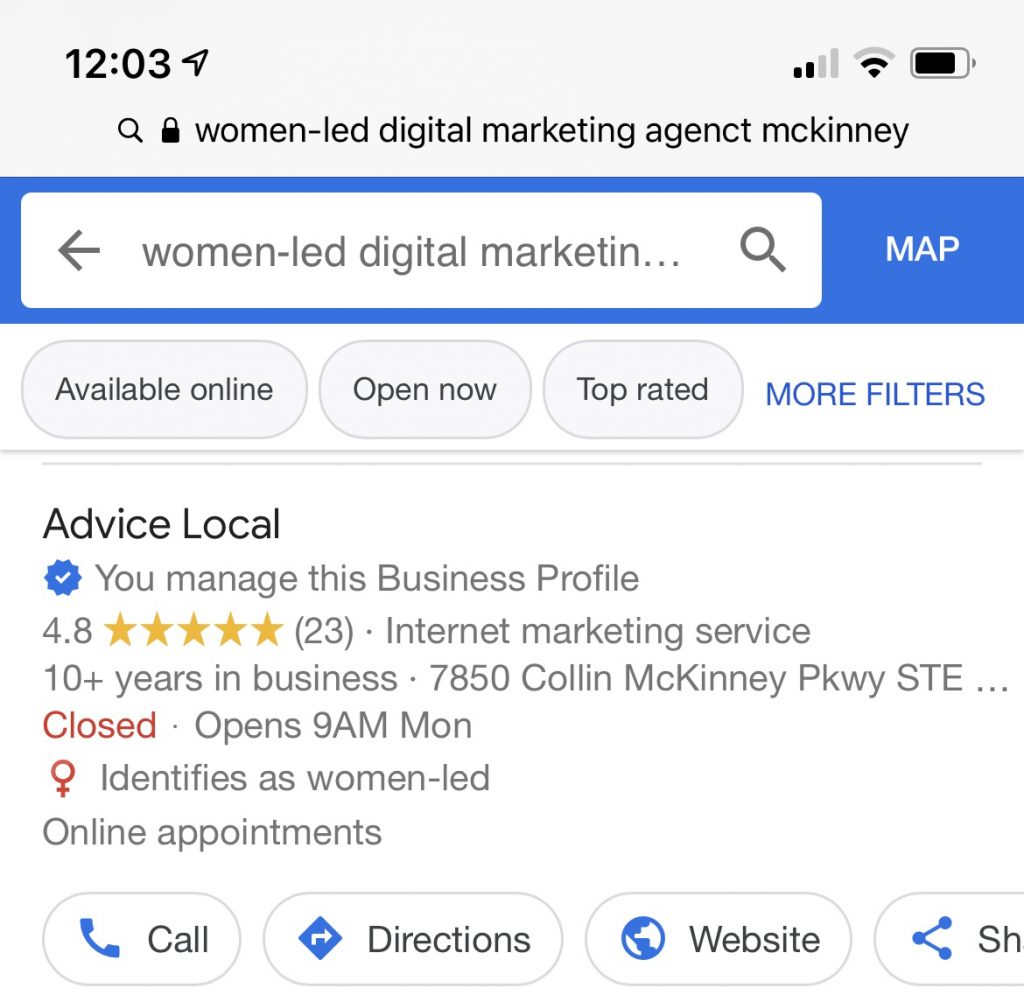 Shown above is an example of the women-led attribute on Advice Local's Google Business Profile listing. Just like with this listing, numerous attributes will undoubtedly fit your clients' business services.
This post from Chatmeter claims to list them all, and has been updated to include relevant COVID-19 attributes. The attributes available within a Google Business Profile listing vary based on the primary GBP category the business is assigned to. It's yet another example of why selecting the correct primary category is extremely important.
Take Advantage of the Google Business Profile Verticalization Trend
The increasing number of attributes and the growing verticalization trend are currently being overlooked by most businesses. As Damian points out, "It may never have occurred to many brand marketers, for instance, to promote the availability of recycling kiosks at store locations."
Google clearly wants to offer a more personalized experience to searchers and updating attributes, whether based on sales conversions or brand identity, is the way to stand out. And the winners in this new trend are the businesses that stand out in search because of these attributes. But consumers win too, as they are consistently demonstrating they want access to this type of specific information that helps them in the decision-making process.
Help Your Clients Take Control of Their Data
Need help growing your clients' online visibility? From comprehensive visibility reports to managing business listings, the Advice Local solution takes care of every step in the process.
We even have Google Business Profile features available in our dashboard such as GBP Sync, the Google Authority Score and a GBP tool to make scheduling posts, images and managing reviews easier. Request a demo today and our team can walk you through our user-friendly technology built for agencies and brands just like you.